2014 retrospective

I am a little bit late for this retrospective but holiday season was full of good things and I was really disconnected. I spent 2 amazing weeks in South Africa with my girlfriend, see post picture :). 2014 was really exciting, many things happened and just like last year it's time to summarise the content of 2014.
Life
I am still living with my girlfriend, we also moved to a new place in Paris. We definitely leveled up since we switched from 21m² to 45m².
eNovance's acquisition by Red Hat in June 2014. It is always a big change when you start at 20 then expand to 120 and all the sudden you are part of almost 7000 people all over the globe. To be honest, I haven't noticed any major changes in my daily activities. I'm still a happy domain architect. The biggest change is probably my email address :). So if you want to reach me at Red Hat you can formally use shan [ at ] redhat.com or seb [ at ] redhat.com (yeah I've got the alias, I know it's cool :p).
Blog content
As you might have guessed already OpenStack and Ceph still have the more content in my blog even though Ceph has probably more articles than OpenStack. At some point, with Icehouse, the Ceph integration into OpenStack has started to stabilise and the most wanted feature RBD cloning is finally supported. The only remaining big patch is Nova and RBD snapshot which will likely land in Kilo. Don't get me wrong OpenStack is always moving and evolving rapidly and I keep working on the Ceph integration in OpenStack. We always have a session at the OpenStack summit dedicated for that.
Last year expectations were mainly about Docker however I only wrote 3 articles. I still believe it is a big subject, I just don't have enough time to seriously dive into it. Although my general knowledge is pretty decent and I have been closely following the OpenStack integration. (I still have a blog post draft…)
Something that I didn't really see coming was Ansible. I have started some work with Puppet, but was rapidly disappointed, so I started to look at some alternatives. I also wanted to build and easily deploy Ceph, this is how I started with Ansible. This is why in March 2014 I was announcing the ceph-ansible repository on the Ceph GitHub. I am the main contributor of this project, but also got many interest and nice commits. Things that I'm really happy about and for this I would like to thanks all the people that contributed to Ceph Ansible :). I don't write much articles about Ansible but I write point release articles to give you some update. Otherwise you can always look at the repository and the commits, things are moving fast even though things tend to stabilised.
On the road to 2015
It is hard to predict what I will be writing about in 2015 but I can fairly say that Ceph, OpenStack and Ansible will remain the foundation of this blog. I will try to keep my blogging rate of 2 articles per week. I will probably have less time this year since Red Hat brought several huge and challenging projects to me. But I promise I will do my best!
Analytics
Surprisingly here the top 10 of the most visited pages in 2014 on sebastien-han.fr, actually number surprised me a lot:
/blog/ with 23,251 pageviews.
/blog/2012/06/10/introducing-ceph-to-openstack/ with 12,615 pageviews.
/blog/2013/12/16/virtualbox-mac-os-x-10-dot-9-boot-from-an-usb-drive/ with 10,720 pageviews.
/blog/2012/08/26/ceph-benchmarks/ with 10,615 pageviews.
/blog/2012/04/01/mysql-multi-master-replication-with-galera/ with 10,439 pageviews.
/ with 9,431 pageviews.
/blog/2012/05/26/differences-between-active-active-and-active-passive-cluster/ with 9,104 pageviews.
/blog/2012/04/08/mysql-galera-cluster-with-haproxy/ with 8,257 pageviews.
/blog/2011/07/04/introduction-au-cluster-sous-linux/ with 7,165 pageviews.
/blog/2013/08/16/best-localrc-for-devstack/ with 6599 pageviews.
On sebastien-han.fr daily visitors reached around 1000 people per day.
2013 versus 2014 visits: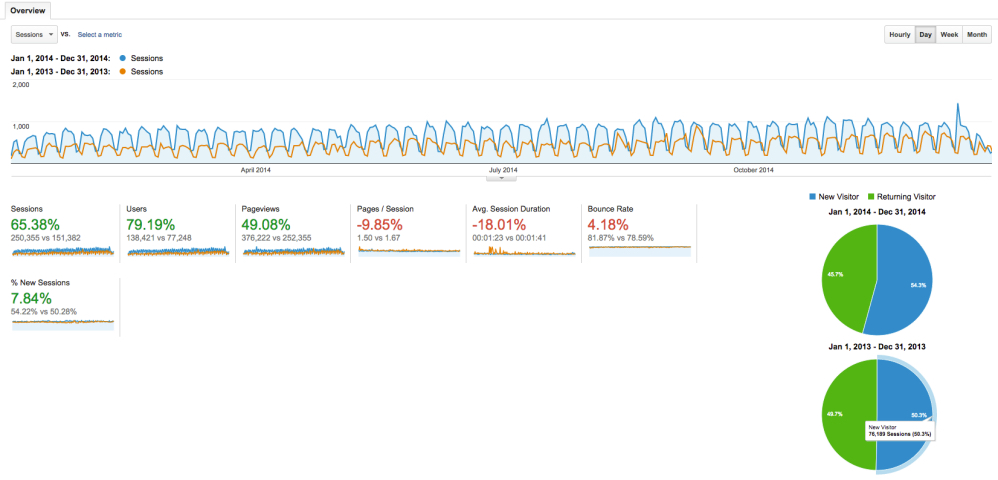 I wish you all the best for 2015 and would like to thank you all for reading this blog. It is really important for me and rewarding when I look at my Google analytics. So thanks again!