2013 retrospective
It has been an existing year and for this I would like to highlight some of the things that happened. I don't usually write too much about myself, I actually never did anything like this here. I prefer to keep personal things away from my blog. However, I don't exclusively want to consider my website as a pure technical blog. So I thought this new year's post might be a good start.
Life
Early 2013, end of February, I was leaving Smile / Stone-IT (the first company I worked for) to join eNovance. So we moved (my girlfriend and I) from the beautiful city, Utrecht (Netherlands) to the city of love, Paris (France). Back to my country of origin and (real) first time in Paris for us, I am from the south, Marseille. At first, it was not that easy. Paris is just really packed, tremendously expensive (flat, food etc…) but awesome for culture, art, shows and events. So I adapted, just like everyone.
Blog content
As you might have noticed, I have added a new main subject to the blog: Docker and more generally containers. Docker has gathered a lot of attention this year, 2013 was the right time for me to jump in even if maturity and stabilisation are more for 2014. For instance, Docker suffered from its popularity and signed a partnership with Red Hat. This led to some drastic changes to the Docker engine. Things grew terribly fast for Docker and I am quite happy for them, they deserve it. CoreOS is also something that I had my eyes on, I like the whole approach and I definitely believe that they do things right. However I can't consider it as an entire new category for the blog, as a result sometimes CoreOS will be mixed with Docker. It is also quite common for me to use CoreOS powered virtual machines to play with Docker.
Initially 2013 principal areas of interest were (and still are!):
Ceph: the unified distributed scalable storage system.
OpenStack: the cloud management platform framework.
Obviously from time to time I also write a bit about what I call my life as a devops and some HA related stuff as well.
I have always tried to conserve a regular publication habit. Thus I do my best to post 2 articles per week, notable exceptions are holidays (obviously) and big community event (OpenStack summit). This has been working pretty great as far as I see. I do not attend to change this in the future, so hopefully everything will remain the same :-).
On the road to 2014
Puppet
I have recently been involved in some Puppet stuff, puppet-ceph actually. I have to say that this is an interesting area, so I might dive deeper into this. We recently launched a puppet-ceph initiative on Stackforge. Thus one of 2014's goals is also to unify Ceph deployment methods.
Python!
I still haven't had the chance to seriously dive into Python and I am quite frustrated because of this. It is just that whilst trying to enhance my devops skills I couldn't make any real effort to properly learn Python. It was just small pieces from time to time, not on a regular basis, this is why it did not work. At least, I can read and understand the code but I am unable to really write anything useful. Hopefully this will be part of next year's retrospective :D.
Analytics
Some metrics gathered from sebastien-han.fr: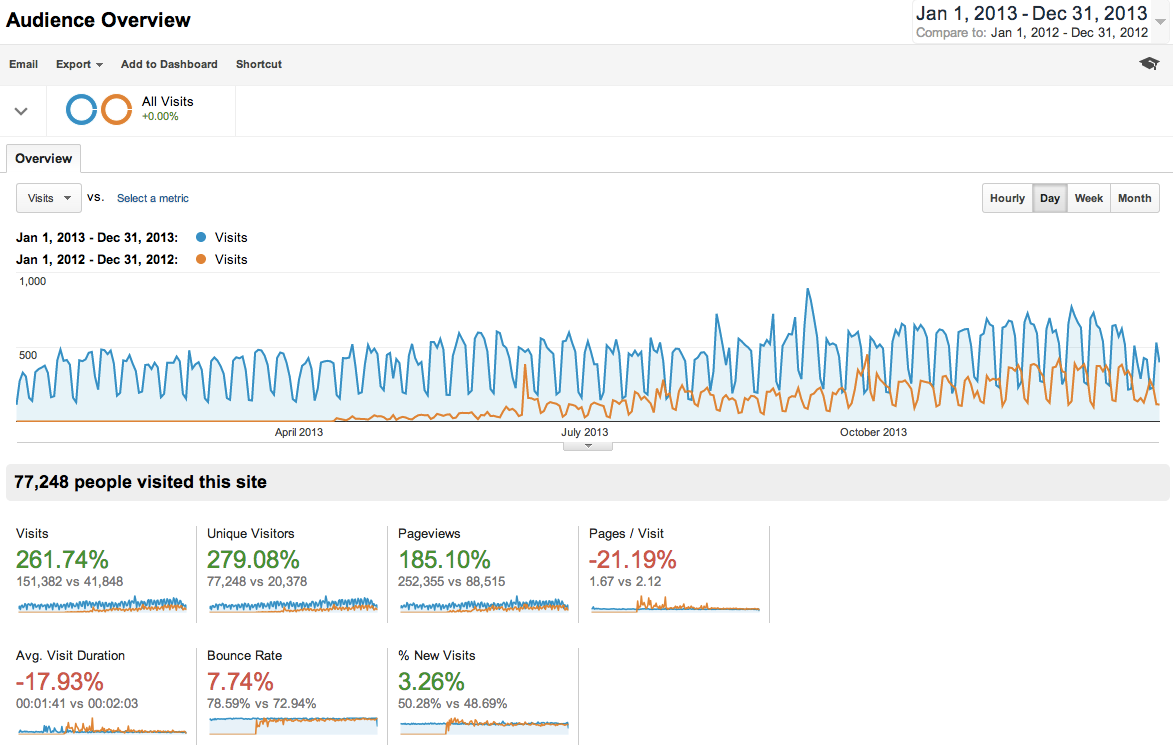 The picture shows a comparison based on the daily visits between 2013 and 2012. As you can see, the average number of daily visitors is around 700. IT'S BANANAS!
Eventually, 2013 top 10 most viewed pages:
I wish you all the best for 2014!